Today's money exchange rate
No application slip,No waiting time,and the best rate! at Tsuruhashi Osaka-city,
Yamato-Yagi Kashihara-city Nara-pref.We can handle USD(US$),EUR,RMB(CNY),
KRW,AUD(AU$),THB,CAD(CA$),GBP(STG),CHF,NZD(NZ$),HKD(HK$),TWD(TW$),
SGD(SG$),IDR,MYR,PHP,VND and so on.

We can exchange foreign currency to Japanese yen at the best rate in japan.
Our rates are always better than Japanese banks and KIX.We can handle a lot of
country's currency.(US dollar,Eurocurrency,Chinese yuan,South Korean won,
Australian dollar,Singapore dollar,Hong Kong dollar,New Taiwan dollar,Thai baht,
New Zealand dollar,Sterling pound,Swiss franc,Canadian dollar,and so on)
You can exchange without application slip and any waiting time.The real time rate
table above includes commission.We have an English speaking staff.

Currency Exchange CAPRI - Tsuruhashi store
3-15-1,Higashiobase,Higashinari-ku Osaka-city,Japan(next to JR Ticket Office)
telephone:06-6753-8788 Open every day from 10am to 7pm.

Currency Exchange CAPRI - Yamato-Yagi store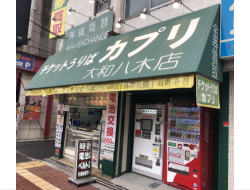 5-2-37,Naizencho,Kashihara-city,Nara,Japan(right around the Yamato-Yagi Sta.)
telephone:0744-47-2622 Open every day from 9am to 7pm.

 你可以外币兑换
 你可以外幣兌換
 외화 환전 할 수 있습니다
 คุณสามารถ แลกเปลี่ยนเงินตราต่างประเทศ
 È possibile cambio valuta
 Je kan op verzoek wisselkoers
 Puede Cambio de divisas
 Sie können Geldwechsel
 Vous pouvez de change
 Bạn có thể đổi tiền
 Maaari kang Pagpapalit ng Currency
 Anda boleh Pertukaran Wang